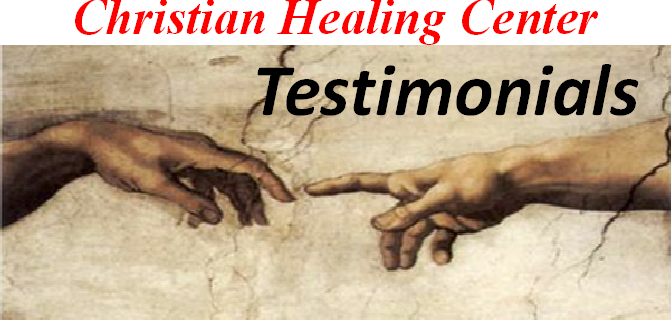 Listen to what God has done for Alan after his prayer session at the Christian Healing Center!
Testimonies Of What God Has Done!
After Pastor Daniel prayed for me about my sleep and bad nightmare issues I was able to sleep 100 % better than I have in over a month. He explained to me the power of forgiveness and letting go of past traumas and reconnect with a God that loves me unconditionally.  Erika G.               Oct. 2019
      ***********************************************
Thank you for your prayer and blessings to me. After our prayer session on Wednesday, I began to heal that night and into the next day. My congestive heart was relieved of pressure, the breath was virtually normal and water weight dissipated to get me to my target weight. My morning walks in the neighborhood have at least doubled in length, with a normal, easy pace, compared to the recent past. I am able now to get around in the house to get lots done, compared to the past few months. This was very debilitating for several months, with many ER trips and hospital stays. My sincere thanks to Daniel and his healing center staff for this amazing healing..God bless you all! .. Bob P.
*************************************************
On Saturday, Sept. 17, 2016, My grandmother arrived at the Shalom Healing Home in pain. After she was prayed for by Daniel, her mobility has been increasing daily. She also said that the pain has left her leg and her back being strengthened. The burning pain has left the bottom of her feet. As of today, she has not had her pain meds since Wednesday (Sept 22, 2016). When she was prayed for on Sunday (9/18/2016) she said after reading the prayers for forgiveness and repentance, she felt something crawl off her face....Jackie T.



**************************************************
Dear Daniel...Thank you for your healing prayer for me. My rash is gone and I have been rebuking it when it tried to return. I Jesus Name I am healed by the Lord!....Mary L.
****************************************************
Dear Daniel, We don't want another day to go by without telling you of the healing we received when you prayed for us. Thank you so much!!! The pinched nerves in my neck were healed!!! The inner anxiety left and we both have our peace restored!! New hope restored!! Thank you for your faithfulness in serving our Lord.  Love and prayers,  Mary D.

***************************************************
After the prayer ministers prayed for me, all my back pain is gone;I sleep much better! I felt so relaxed after the prayers from the Healing Center."As they prayed for me, I felt the presence of Jesus touching my forehead and telling me He is my Father now. A wonderful peace and rest came over me. I feel I am a child of God and entitled to His blessings."

Thank you and May God bless you!" Solanda



****************************************************
Ledia's knee hurt badly and she walked with a limp. "I received healing of my knee; I felt His touch and His love for me! After the prayers, my knee was in good shape. Thank you!" Ledia
****************************************************
"My name is Magdalena. I am a very faithful person but since I've been coming to the Healing Center, the miracles have been abundant... My family keeps growing in unity and spirit. My health is good and I feel better and energetic. My sons are in peace and show more care for each other. Now, work is always there and the miracle of the Lord helps me to get by and manage to pay my bills on time. Thank you Jesus! I thank Jesus for the Healing Center and the faithful people that run it. My faith is Stronger and gets better each day. They are strongly blessed by the Holy Spirit."
Magdalena.
****************************************************
"

I always feel the presence of God in me and in this Healing Center group. I am sure that the Lord is with us and in the healers (prayer ministers) that help and pray for our health. I give thanks for all of His miracles!" Zenei
**************************************************
"My Doctor can't believe how well my hand is healing. I will not need surgery. Thank you; Christian Healing Center; for allowing Jesus to flow through you. You are a light." James (Carpal Tunnel syndrome-guitar player)
************************************************
"

I so appreciate the love and prayers I felt at the Christian Healing Center. Thank God for Dan's discernment and Hanna's sweet spirit. Thank you for the Holy Spirit and His revealing His love and mercy to me." Elaine
************************************************
God's Healing Plan for My Family. My family in no stranger to God's healing hand, so when my youngest son was diagnosed with Scoliosis he requested healing prayers from Dan Murray whom he had previously met. My husband and I took him for our appointment with Dan and after he was prayed for and healed, I asked Dan to pray for me as I had been battling diabetes for over 25 years.
Dan and prayer warrior John prayed not just for my healing from diabetes but for my whole body. As they prayed, I felt my arm rotating backwards, through no effort of mine. More like I had a trainer who was introducing me to a routine for the first time. I remember forcefully exhaling after taking a deep breath. Again just as if I was in an exercise class, but this was different I felt lighter and taller. I then noticed I was standing straight and my posture was improved.
Since I was born with round shoulders, a hereditary trait, this was a shock to me. I had asked for prayer for diabetes, not my shoulders, as I had no real complications and never thought of asking for healing. However, that day God had wholeness in mind. I continue to stand tall and God continues to work on me and my blood sugar. I know that healing can be an instant or a gradual process. My shoulders were instantly healed, as for my diabetic condition I know that God is working on it but I have to do my part in taking care of his temple, my body. I am convinced that I will be walking in divine health very soon.
My husband had also asked for prayers for a sleep disorder. Prayer warriors Hannah and John prayed for him. After a few days I notice that I no longer know when he was asleep as there was no longer the sound of a freight train in our bedroom. My son was also healed of round shoulders and a crocked spine. Thanks to God and the Christian Healing Center, our family experienced Gods healing all in one day.

*********************************************
"I am the person that called in for prayer on October 7, on a Thursday morning while waiting to go in the doctor's office because I was having pains in my neck and I had to sleep my right hand elevated on pillows at night and the pain would still awake me from my sleep. After calling for payer, I have been able to sleep at night without any pains. You told me that my vertebrae was out of alignment and the Lord healed me. Thank God."
**********************************************
Dear Mr. Murray: As I am thinking of all the things I am thankful for during this season, I put you at the top of my list. You might remember that you prayed for me at Yellowstone Park, at the Old Faithful Inn. You annointed me with oil, and prayed that the demon of pain leave me. I must admit that I was skeptical (you've never heard that before, have you? 🙂 ), and was actually afraid of embarrassing you when I stood up, still in pain. Well, I am no longer skeptical of the power of healing prayer. I have testified to your faithfulness to your calling to most of the people in my church, to all my friends, my hairdresser, and strangers. This weekend I will be spending time with my family, most of whom no longer attend church, and plan to tell my (your) story again. I tell people how you prayed, and the results. I have had no pain since that day, only minor twinges. Then I pray for myself: "In the name of Jesus Christ I command the demon of sin to leave me." I am so grateful to you for your strong faith and your witness to our Lord. I implied that I give you the credit for my being pain-free, but that's not true. I give all the glory to our risen Lord, and praise Him that He works through you. You are in my prayers that you may remain strong in health and faithful to your calling, and that our God will continue to bless you as He uses you for His glory. In His Love, Myra "
***********************************************
Dear Christian Healing Center:
My spirit and my soul feel like the weight of the world has been lifted from my shoulders. I feel the strong presence of the Lord and know the He is leading my steps. I can't describe the peace it has brought me. after Mr Murray and Hanna started praying to the Lord and the Holy Spirit came over me with such power. He anointed me with oil .Then they both shared Biblical scriptures that spoke directly to my heart and soul. I have gone there every week for the past 3 weeks and I can't get enough prayer time with them. The power of the Holy Spirit works directly through Mr. Murray using him as a tool for the Lord's work. I am sooo thankful for him and Hanna! Oceans of Love, Cindy
***********************************************
Dear Daniel,
We met in the spring of 2012 at the Kings Fold retreat. We had a time of prayer together in the little chapel. I wanted to share with you how God continues to heal and transform my fear and anxiety. Last weekend , my husband an I went on a 3 day motorcycle trip. We spent time together and with God in His beautiful creation. In the past, weekend away like this would have cause tremendous anxiety before and all during the trip. I had some anxious thoughts try to sneak in just before leaving but remembered that Jesus had told me that Him and I were going to walk out of this fear together. So I agreed to allow Him to do that. The weekend was glorious and fear free. I was able to fully enjoy the experience and just soak in the beauty and freedom! My life expanded. He grew my life.Yesterday I drove the car to Red Deer with my Dad. May the love of Jesus Christ fill your heart. This highway is very busy and very fast. I drove the 11/2 hours with no worry, anxiety or fear. It was as easy as driving to the grocery store. Praise God for His loving attention to me and His continuing to gently draw me closer with His love, Just wanted to share with you Daniel, as our time of prayer was such a transformation part of my journey.
Peace of Jesus Christ.
Susan
Give Us Your Testimony Below!